The registration for the Corona Vaccine or Covid-19 vaccination for all above 18 years of age has been started from April 28, 2021, on the Aarogya Setu app or Co-WIN portal. If you want to vaccinate yourself so you can register for Covid-19 vaccination.
You can't register at vaccination centres. Registration is available online only for less than 45 years old people. If you are 45 years old or 45 years plus. So you can go for on-site registration to get the Covid-19 vaccines. If people will go to the vaccination centres for the registration so lots of people will be gathered at one place and it is not good at this critical time.
It is mandatory to register online on the Co-WIN portal or Aarogya Setu app if you are between 18 years to 45 years old.
How to Register on CO-WIN PORTAL For Vaccination Registration?
Here is the process to easily register on the CO-WIN PORTAL. Please follow all the step one by one and during registration, provide all the original required information.
First, visit the

Co-WIN portal

and after that click on the button "

Register/Sign In Yourself

" to register yourself for Covid-19 vaccination.

Now, you have to enter your Mobile Number and click on "

GET OTP

". It is a One-time password you will receive on your registered mobile number. You can also log in via the UMANG app or Aarogya Setu app.

After receiving OTP, enter the OTP and click on verify.

After the mobile number verification, a new page will open "

Registration for Vaccination".

Enter your mandatory details which are

Photo ID proof, Photo ID Number, Name, Gender, Year of Birth.

Now you can register yourself on the portal.

After the registration, you can see your Account Details and you can also schedule your appointment for the Covid-19 vaccination.

For Photo ID you can use the following documents:
Aadhaar card

Driving License

PAN card

Passport

Pension Passbook

NPR Smart Card

Voter ID Card (EPIC)
How to Register on AAROGYA SETU APP For Vaccination Registration?
First, you have to Install

Aarogya Setu App

.

Here you can register yourself using your mobile number and you can verify your number using the OTP verification process. After mobile number verification, you can log in to your account.

Now here you can see a tab with the name

Vaccination.

Click on it and fill in all the required details.
How to Register on UMANG APP For Vaccination Registration?
First, install

UMANG App

.

Register yourself with your mobile number and also verify your mobile number with the OTP process.

After login click on

Register Now

for the Vaccination. Register now button colour is red.

After that, you can register yourself with the required documents.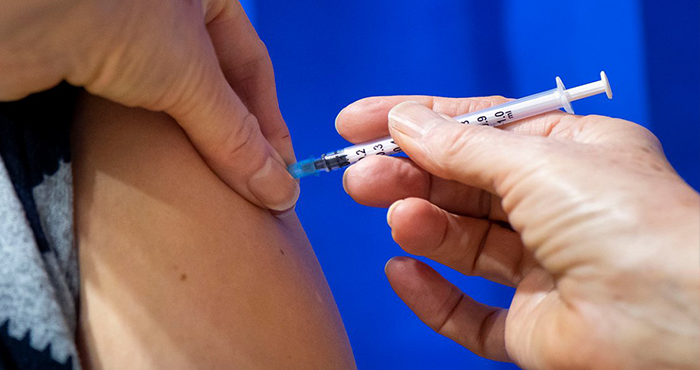 DOS AND DON'TS FOR CITIZENS BEFORE/AFTER VACCINATION
What You Should Do:
First, register yourself and schedule your Vaccination in the advance.

You can register yourself online using Co-WIN OR Aarogya Setu App or UMAND App.

Only Register using one mobile number and carry your ID proof which you used during registration when you go for Vaccination.

You have to search for your nearest Vaccination centre on the Co-WIN OR Aarogya Setu App to avoid travel.

Only reach the vaccination centre at the scheduled time & date.

After your vaccination, sit there for 30 minutes and if you find out any side effect of the Vaccine in your body so inform the staff immediately.

If you face any side effect in your body so you can also call on the

Inform Helpline Number: +91-11-23978046 (Toll-free- 1075).

Keep using the mask and also keep social distancing.
What You Shouldn't Do:
Don't go to the Vaccination centre without an appointment.

Only register at a single platform. Don't register yourself on multiple platforms.

Even don't register using multiple mobile numbers and multiple ID proof.

Don't drink alcohol or any other intoxicants on the day of Vaccination.

Don't panic if you face any side effect after the Vaccination because it is normal and it is curable.

Don't register again for the second dose.
As we know, Corona is so much deadly these days so we request you to take care of yourself and your family. Keep social distancing and keep using a mask. Also, sanitize your hands and keep washing your hands regularly. It is temporary and everything will be normal like in the past. Stay Safe & Stay Healthy.